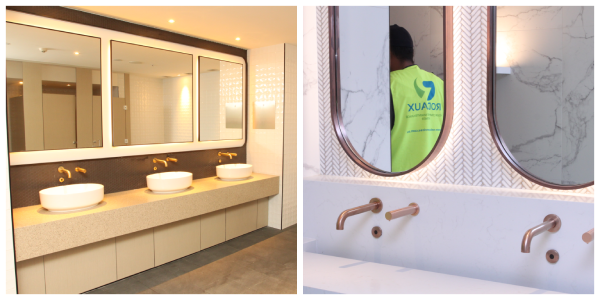 COMMERCIAL AND INDUSTRIAL CLEANING
If your commercial establishment is in need of maintenance and cleaning services, we, at Rodaux Maintenance Services, are here for you. Based out of Sydney, Australia, we have been a top player in this field with eighteen long years of expert service record.

You can avail our services for all kinds of commercial establishments, like offices, schools, malls, hotels, restaurants, theaters, etc. Our crew can take care of all your cleaning woes including other regular or emergency maintenance and repair needs. We also handle sanitizing, stocking, and restocking, wherever necessary.

Apart from just repair and cleaning works, we also take care of stocking the site with necessary essentials, like toilet papers in case of restroom cleaning and maintenance, restoring broken glasses anywhere necessary, proper sanitization activities, and much more. Our singular focus is on delivering the best, most cost-effective, efficient, and timely service to our clients. We value the trust and time you put into us and work on creating meaningful, long-term associations and giving you the best each time.